"After leaving school, I completed a Year's Foundation Course at Middlesex Polytechnic. There my art teacher was Brian Mason who taught life drawing. Brian was an artist who painted hyper realistic paintings. Important for me was that he taught through learning drawing from observation, a new way of looking explaining what you see rather than what you want to see. The crux of his lessons were to have a long lasting effect on my work. Looking made sense and it informed the marks I made giving them meaning.
After Middlesex Polytechnic I studied Fine Art at Bristol Polytechnic for three years. I found Bristol was on the cusp of morphing somehow from a traditional art school where you could learn to draw to a more conceptual based school as it is now.
We learnt to talk about our work, defend our corner as it were, often challenged by people who didn't like painting in any traditional sense.
I found it challenging and yet it reinforced to me what I still feel to this day that my intuition, hand, heart and gut will always make better pictures than my intellect.
In 1991 after completing my degree I decided to take the bull by the horns and went to Amsterdam and rented a studio space in the Loyd hotel. after a visit to the Amsterdam archive building in 1994 to see an exhibition of Mondriaan's "en plein air" paintings I decided that I to also wanted to paint "en plein air". Within few months I got to know many of the other artist in the studio as I was seen as the eccentric Englishman who painted outside, quite a good way to get to know people when I think about it.
Wim Doorschot a Dutch sculptor 33 years older than me lived in the cellar of the Loyd, he helped me in many ways but non more so than in learning to work in a disciplined
and professional manner. In 1995 I had my first exhibition in the Liberij in Zwolle then soon after I entered the Amsterdam gallery scene, Singel 74 being my first show.
In 2005 I went to NYC where amongst others I met the Scottish artist Lex Braes, and the English abstract minimalist Alan Uglow.
The bar had been raised, Lex's intelligence and energy in both his work and in himself were contagious it was also the case that I realised how little I knew about Abstract expressionism, all of this being grist to the mill for an artist
My most fundamental role model by far was my maternal Grandfather Professor Weigthman. He was a French specialist and through his study of Philosophers and writers had come to believe that there was no great meaning to life.
This was not a nihilistic view; for my Grandfather's absurdism was a kind of comfort to me. it was a mistake to seek solace in any kind of mysticism; reality was there to be experienced and with luck enjoyed. I identify more deeply with this view of life. I have no message other than if you regard the world as absurd you can perhaps picture it more sharply.

I always have in mind the observation of Sir Stanley Spencer, a painter I greatly admire , who wrote; "When I look at anything I see everything".
Time line
Art Academy
I finished my Fine art degree at Bristol polytechnic in 1991




---
First years in Amsterdam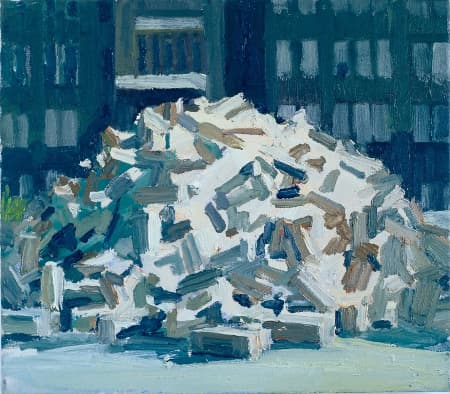 Moved to Amsterdam where I had my first show at the then called Libarij in Zwolle (solo). In 1996 was my first gallery group show at Singel 74.
I sold work to and was commissioned by the AKZO Nobel art foundation to make a larger 'en pein air' painting
at the then main site in Arnhem.
---
Solo exhibitions and art fairs
Between 2000 and 2018 I had many solo exhibitions and art fairs with gallery Roger Katwijk (Amsterdam) and Gallery Martin Martens (Berlin). In this time I had also shown with Robert Drees Gallery ( Hanover ) and DFN in NYC .
With a mid carrier Solo in the Stedelijk museum Kampen in 2013
---
Art collections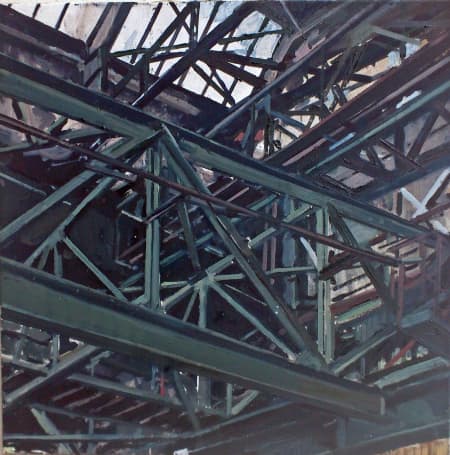 My paintings have been acquired in several collections including AKZO Nobel, the Dutch Royal family, Drents Museum, Morat Institute for Art and Art Science, AEGON collection, MONDO studios, Thomas Rusche SOR collection and many more. Also articles have been written about my work in the Financieel Dagblad, Het Parool, de Volkskrant and various other publications, including 3 catalogues .
---
Artist residency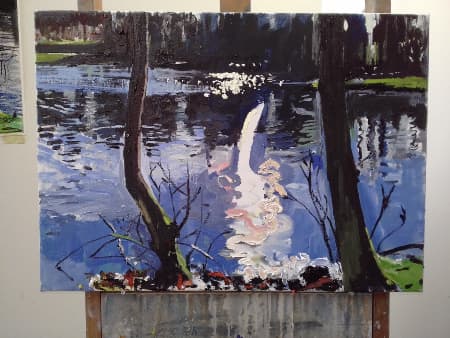 From 2018 until 2020 I was artist in residence at the Dooyewaard stichting in Blaricum.



---
Teaching
I have been a teacher at the Wackers Academy in Amsterdam since 2010 and also give workshops both in the Netherlands and Germany on a regular basis.
---
Exhibitions
2021
'Coulissen', gallery de Hulenhof, Zelhem, The Netherlands
2020
'Steen, hout, water en licht', Domkerk, Utrecht, The Netherlands
'Looks Good on Paper', Garvey|Simon Gallery, New York, USA
2018
'Path of Navigation', Galerie Martin Mertens, Berlin, Germany
2017
'Fluid', Galerie Roger Katwijk, Amsterdam, The Netherlands
Jim Harris at the Morat Institution in Freiburg, Germany
2015
'Current works', Galerie Martin Mertens, Berlin, Germany
2014
'Living off nature', Galerie Roger Katwijk, Amsterdam, The Netherlands
2013
'Insolation', MM Projects, Karlsruhe, Germany
2012
'Leaving the Light', Galerie Martin Mertens, Berlin, Germany
2011
'Immediate Surroundings', Gallery Roger Katwijk, Amsterdam, The Netherlands
2010
'Neue Bilder', Galerie Martin Mertens, München, Germany
2009
Gallery Jurgen Kalthoff (two-man show), Essen, Germany
'Lumen', Galerie Martin Mertens, Berlin, Germany
Galerie Roger Katwijk, Amsterdam, The Netherlands
2008
Art Bologna, Italy, Gallery Martin Mertens
2007
Galerie Martin Mertens, Berlin, Germany
Galerie Krijger & Katwijk, Amsterdam, The Netherlands
2006
Galerie Martin Mertens, Berlin, Germany
Galerie Jürgen Kalthoff, Essen, Germany
2005
Galerie rekord, Berlin, Germany
Galerie g, Freiburg, Germany
Galerie Krijger & Katwijk, Amsterdam, The Netherlands
2004
Galerie Jürgen Kalthoff, Essen, Germany
2003
Galerie Pimm van der Donk, Hamburg, Germany
Galerie Jürgen Kalthoff, Essen, Germany
1999
Galerie Singel 74, Amsterdam, The Netherlands
---