.
Solo Exhibition Oct 9 – Nov 21, 2021
I am very pleased and proud to invite you to my solo exhibition "Coulissen" at gallery de Hulenhof, Brunsveldweg 2, 7021 JH in Zelhem.

The exhibition will open on Saturday the 9th of October from 14.00 -18.00 and runs through to the 21st of November.

I and the gallerists, Jean Pierre Pasma and Peter Ringens, are looking forward to welcoming you on the 9th of October.
 
It will also be possible to visit the exhibition on Saturdays between 14:00 and 18:00 and by appointment on other days.

Directions
On painting in the Achterhoek
I have been painting for 40 years but I have spent the last 4 seasons
concentrating on the Coulissen landscape of the Achterhoek.
In the tradition of the impressionists, I venture out, often on my bike, to paint directly from nature.
I paint with a sense of urgency because I have to respond quickly without preparatory sketches, the whole process happens on the canvas.
My paintings are a record of the passing of time as shown by the changes in light, the wind blowing and it can of course rain.
Observing from life is like listening to a story unfold into details I could have never imagined.

The minute I start to observe it is as if the speed in which things change accelerates and the complexities increase. I become the camera capturing thousands of real time moments,
every step to be decided by me.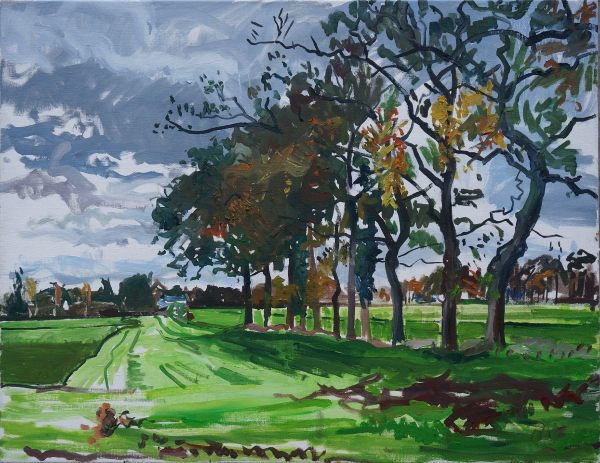 This requires "craft" a word often frowned upon in certain circles of the art world, however craft to me is essential. I make marks to explain the space I am standing in and record the textures of the surfaces, temperature and light fall. The paint can act like the surfaces it is portraying by either absorbing or reflecting light. There is an element of constraint needed in getting the proportions right. The relationship between the objects and spaces I am viewing have to be right as I believe that it is essential in capturing the poetics of the space I am viewing.
However the physical truth of my paintings is a vehicle for other stories and interpretations to come to light, often found at locations where one might easily just pass by the ordinary but actually the extraordinary . By observing and recording, I feel I can lift the painted
image to a different place which asks the viewer whether these are direct observations or rather stage sets revealing other possibilities .